The SoNorA project is within the Transnational Cooperation Operational Programme, which is financed through the EU's European Regional Development Fund (ERDF).
The programme is divided into several zones. The Czech Republic, like Austria, Poland, part of Germany, Hungary, Slovenia, Slovakia, part of Italy – and of the non-member states part of Ukraine – belongs to the Central Europe zone. The leading authority in the Transnational Cooperation Operational Programme is the Amt der Wiener Landesregierung in Austria; in the Czech Republic, it is the National Coordinator of the Ministry of Regional Development of the Czech Republic. The programme's goal is to enable the exchange and transfer of experience mainly in the areas of innovation, transport availability and the environment, and to increase the attractiveness of cities and regions. Information about the Central Europe programme is available on www.central2013.eu.
Additional information concerning European Union regional development policy can be found on the website of DG Regio on http://ec.europa.eu/regional_policy/index_en.htm.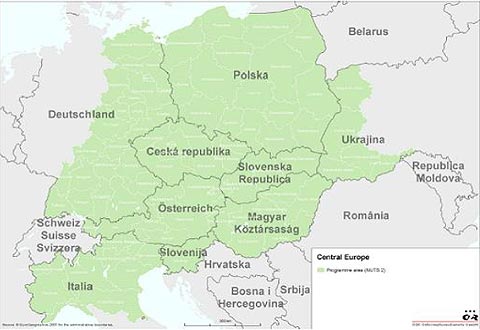 Brief project overview
The SoNorA (South-North Axis) project is the largest project in the Central Europe programme in terms of its overall budget, which was approved during the first call to submit subsidy applications. The project's goal is to make practical use of the results of the Adriatic-Baltic Landbridge project (realised within the IIIB CADSES programme), in which ČD also participated. This project's main goal is to support multimodal transport between the Baltic and Adriatic Seas with the goal of increasing the share of railway and waterway transport.
A specific contribution of the project from the point of view of developing rail freight transport will be the elaboration of an analysis of development and an optimisation of transport at the container terminal in Lovosice, as well as a pre-investment study of ČD Cargo's market opportunities in Brno and Ostrava.
Goals of the project:
To support completion of the transport network in the space of CENTRAL EUROPE.
To begin to improve services in the area of rail freight transport and logistics.
To create a joint transnational transport infrastructure development plan.
To support new opportunities for regional development thanks to improvements in transport availability.

Project launch – 11/2008
Project completion – 02/2012
Contact:
České dráhy, a.s. – General Directorate
Department of Strategy
Nábřeží L. Svobody 1222, Praha 1, 110 15
E-mail: dvorak@gr.cd.cz
Tel.: (+420) 972 232 734