Based on a request for a subsidy from the Community initiative Interreg IIIB CADSES, ČD received a financial contribution from the European Regional Development Fund (ERDF) and the state budget of the Czech Republic for the ADRIATIC-BALTIC LANDBRIDGE international project.
The main goal of the Community initiative Interreg IIIB CADSES is to develop transnational cooperation among countries in the CADSES space among central, regional and local authorities in order to achieve a greater degree of territorial integration in Europe. In the Czech Republic, the Interreg IIIB CADSES programme is administered by the Ministry of Regional Development's Department of Territorial Relations. Information on obtaining subsidies from this programme, supported projects, etc. is available on www.mmr.cz and on www.strukturalni-fondy.cz.
Countries in the CADSES (Central Adriatic Danubian South-Eastern European Space) space: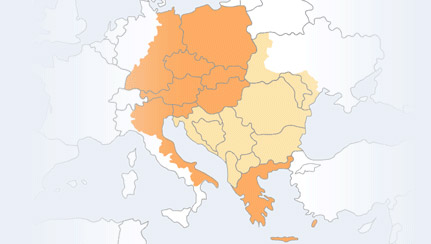 Brief project overview:
The ADRIATIC-BALTIC LANDBRIDGE project represents a preliminary feasibility study and needs analysis for defining a transit corridor that will connect northern Europe and the Mediterranean region, specifically the Baltic and Adriatic Seas. The project's realisation should fundamentally contribute to enhancing the cohesion of western and eastern countries in the CADSES area by defining the most rational measures necessary for making railway and waterway transport more attractive as fundamental components of permanently sustainable development. The project's main goal is to support multimodal transport and increase the share of non-road transport in the region. The A-B Landbridge project will establish active cooperation among various actors influencing transport and regional development between the Baltic and Adriatic Seas, including public-sector institutions, operators, carriers and other important institutions.
Project launch date – 1 June 2006
Project completion date – 30 April 2008
Total project duration – 24 months
Long-term project goal
The project's main goal is to secure permanently sustainable transport by supporting multimodality and establishing suitable conditions for the viability of backbone transport systems which constitute both non-road transport types – railway and waterway transport. The project will analyse demand in the attraction zones of five transport corridors being under assessment connecting the Baltic and Adriatic Seas. The project will identify potential market opportunities for transport and logistics services with added value. The project will also offer specific recommendations concerning investments in infrastructure and the elimination of bottlenecks. Finally, the project will formulate the basic prerequisites for legislation on optimal integration between maritime and inland freight transport.
The A-B area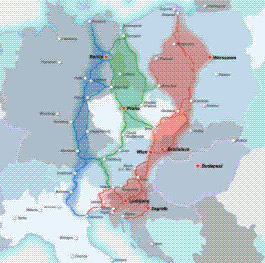 Specific project results 
quantification of the market potential of an A-B multimodal freight transport corridor;
identification of current and future critical transport connections – bottlenecks;
definition of measures to simplify the movement of goods in the A-B area;
description of the technical, legislative, environmental and economic conditions in the A-B area;
elaboration of recommendations for public administration;
creation of transport corridor maps.

Organisation of the project's individual working components
|   | Names of individual measures – Work Packages |
| --- | --- |
| WP 1 | Transport analysis (Railway Transport, Road Transport, Maritime and Inland Waterway Transport) – Scenarios of future development for 2006, 2010 and 2020 |
| WP 2 | Analysis of logistical scenarios for 2006, 2010 and 2020 |
| WP 3 | Analysis of regional development plans and scenarios of future development for 2006, 2010 and 2020 |
| WP 4 | Creation of an institutional arrangement |
| WP 5 | Elaboration of an integrated multi-sector scenario and elaboration of a road infrastructure development plan – map |
| WP 6 | Dissemination of project results, coordination and publicity, technical and financial project management |
List of project partners
|   | Name | Country |
| --- | --- | --- |
| PP 1 | Veneto Region – Project Leader | IT |
| PP 2 | AMRIE | IT |
| PP 3 | Central European Initiative CEI-Executive Secretariat | IT |
| PP 4 | Centre for Transport System Studies - CSST S.p.A. | IT |
| PP 5 | Venice Port Authority | IT |
| PP 6 | South Bohemia Region | CZ |
| PP 7 | City Plan s.r.o. | CZ |
| PP 8 | České Dráhy, a.s. (ČD) | CZ |
| PP 9 | Central Bohemia Region | CZ |
| PP 10 | Ministry of Infrastructure of the Republic of Poland | PL |
| PP 11 | Amber Road Cities Association - Gdynia ARCA | PL |
| PP 12 | The Port of Gdynia Authority S.A. | PL |
| PP 13 | Maritime Institute in Gdansk | PL |
| PP 14 | Self-Government of the Pomorskie Region (Voivodeship) | PL |
| PP 15 | Szczecin and Swinoujscie Seaports Port Authority | PL |
| PP 16 | West Pomerian Region (Zachodniopomorskie Region) | PL |
| PP 17 | University of Ljubljana, Faculty of Maritime Studies and Transportation | SI |
| PP 18 | Austrian Transport Ministry (Bundesministerium für Verkehr) | AT |
| PP 19 | Telepark Bärnbach Errichtungs- u. Betriebs GmbH | AT |
| PP 20 | Baltic Energy Forum E V. | DE |
| PP 21 | EPV-GIV Europroject Traffic -Society for Engineering Services Ltd | DE |
| PP 22 | Rostock Port Hafen-Entwicklungsgesellschaft Rostock mbH | DE |
| PP 23 | German Association for Housing, Urban and Spatial Development | DE |